Sooooo…gooood….This is another one of the meals I made up one night without kids or Bruce home that turned out to be fantastic! The other good news is it is quick and easy.
I would highly recommend picking up some of the McCormicks Southwest Seasoning (pictured below). I use it on lots of chicken and pork recipes and I LOVE it. Its a little spicy and a little smoky which is a great flavorful combo.
Southwest Cheesy Bacon Chicken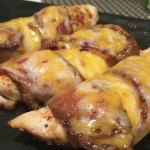 Smoky...Spicy..Bacony...Cheesy...The End.
Prep Time : 10 minutes
Cook Time : 25 minutes
Yield :

12 Pieces
Nutrition facts :
Instructions
1. Turn Oven to 400 Degrees. 2. Line a cookie sheet with foil (if you are smart) Spray with Non-Stick cooking spray. 3. Make sure you pat your chicken tenderloins with a paper towel so the are dry. (Im assuming you have thawed them if they were frozen) 4. Shake a good amount of the Southwest Seasoning onto the chicken tenderloins. If you have people in the house that don't like smoky or spicy, just skip this step or sprinkle with a little salt and pepper. (Olivias version 🙂 ) 5. Take one piece of bacon and wrap it around the seasoned tenderloin. If you need to hold down the edges of the bacon use a toothpick to keep it in place.  Continue for all pieces of chicken. If you have bacon haters ( I know ONE ) then skip the Bacon! 🙂 6. Cook in the oven for 15 minutes. Bacon grease is to be expected but if you use a leaner bacon it will be kept to a minimum. If you use a fatty bacon it might get a little out of control 🙂 7. Now is the harder part . Turn your oven on Broil. Broil your bacon chicken until the bacon looks nice and crispy. Then remove from the oven and turn over. Cook until that bacon looks nice and crispy. Turn BACK over and sprinkle with colby jack cheese. Put it BACK in the oven until its melted and bubbly. Done!  NOTE: DONT WALK AWAY FROM BROIL You can burn your food in the time it takes to let the dogs out 🙂 8. All done! Eat and Pin this to find it later and share your yummy pics on Instagram @madeupmeals #madeupmeals