I have no idea where this recipe came from, all I know is its in the family recipe book and Mom has been making this for a long time (apparently with about 15 year hiatus) I lost the actually paper recipe but thats ok because I have been making it for years without one…another example of me kind of guessing and throwing things together. LOVE Cheesy Beef Pie and its even better the next day warmed up. This is in my repertoire for making the weeks meals in advance when I'm feeling energetic and super-mom-ish.
Cheesy Beef Pie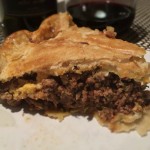 What could be better than meat, cheese and crust! Great family friendly recipe and delicious leftovers...IF you have them!
Prep Time : 20 minutes
Cook Time : 55 minutes
Yield :

6 slices
Nutrition facts :
Instructions
Cheesy Beef Pie
Set Oven to 350 Degrees F.
Brown Ground Beef, Drain and put back into skillet.
Add sliced mushroom, spaghetti sauce, parsley and oregano. Cook over low heat until all is combined and mushrooms are tender.
Crack 2 eggs and put into a bowl. Separate the 3rd egg and put only the white into the bowl with the 2 eggs and put the yolk into another bowl for the final egg wash. Beat Eggs.
Place first pie crust in bottom of deep dish pie plate.
Pour HALF of egg mixture into pie plate.
Add Beef Mixture to pie plate.
Pour remaining egg mixture on top off beef.
Place the 6 pieces of cheese on top of beef mixture.
Put on top pie crust. Pinch edges together however you normally do pie crust edges 🙂 Make slices for vents in top of crust.
Add 1 tbs water to egg yolk. Use pastry brush to brush top of pie crust.
Bake for 50-55 minutes.
Pie Crust
Place flour and salt into mixing bowl. Mix well.
Add shortening and butter. Mix well. Until it forms small crumbles.
Add water until the dough is moistened and it holds together.
Divide into two balls of dough.
Flour surface and roll out dough with a rolling pin until about 1/8 inch thick. Repeat for 2nd ball of dough.