I've had several people ask me for this recipe so I thought I would finally get it on here for the whole world to see! 🙂  I'm positive that your grandmas dumplings and organic fresh chicken slow roasted would make the most amazing chicken n dumplings. Im also quite sure that I could possibly cook in high heels, pearls and a fancy apron….OR I could be a realist and make this on your average weeknight without starting it a 2 p.m. and wear jeans and fuzzy zippy hoodie.
Make your grandmas chicken 'n' dumplings when you have the time and energy and make these when you don't! 🙂
Cheater Chicken & Dumplings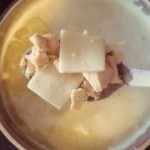 Just three main ingredients make one of the best comfort food there is on a cold winter day.
Prep Time : 10 minutes
Cook Time : 45 minutes
Yield :

8 Bowls
Nutrition facts :
Instructions
This is totally just a guideline recipe. If you want a stronger broth use more, if you want more dumplings use more, less chicken...well you get the idea 🙂 1. Huge Pot 2. Add water, broth and chicken. Bring to a boil. 3. Break the long dumplings into thirds and slowly drop into boiling broth while slowly stirring to prevent the dumplings from sticking together to the bottom. 4. Turn down to low heat and cover. Cover and continue on a very low boil for 40-45 minutes. If you boil it too hard the starches in the dumplings will break apart and you will get a very foggy broth. If you don't cook it high enough for a low boil the dumplings will be chewy. 5. Serve with delicious bread or cornbread or bacon green beans..yum.